Local & Fresh
All products are locally sourced from Chesapeake
Bay Watershed growers and producers.
We Support Community
A portion of our proceeds are donated to food access programs. We
believe everybody should have access to fresh, healthy and local foods.
Your food is here!  When you pick Chesapeake Harvest, you're choosing the freshest and most flavorful fruits and vegetables from trusted local and regional farmers—while helping to build your community.  Chesapeake Harvest farmers are guaranteed a fair price for their produce and use farming practices that protect the Chesapeake Bay and its tributaries.
The Chef's Perspective
By Bri Farrell – Chesapeake Harvest Regional Sales Manager
Those of us who catch the cooking bug are relentless. We lie awake thinking about white Hayman sweet potatoes, why they're so unique and how hard those farmers have to work to produce a bountiful crop. For us, cooking goes beyond
how
we do it, it becomes
why
we do it.
Susan Joy of Blue Heron Catering is that sort of chef. A relatively new user of Chesapeake Harvest, she has quickly become a trusted partner with valuable feedback. When we spoke, Susan explained her theory on local: "You can't do 100 percent local, because we don't have things like pineapple and rice growing in our region. But you can do 50 or more percent." Even when the flush of summer produce is past, there are hydroponic and long-storage crops, like lettuces, tomatoes, root vegetables and apples that are available year-round. At the mention of apples, Susan remarked about her budding relationship with Blades Orchard owners, Lynda and Stephen. "These people whose lives are their farms, they're so much more willing to have conversations about what we want or need – they're invested." The same could be said of the chef who chooses to use local food. Susan remarked, "You're more connected and portrayed as more passionate about what you do."
[ Read More… ]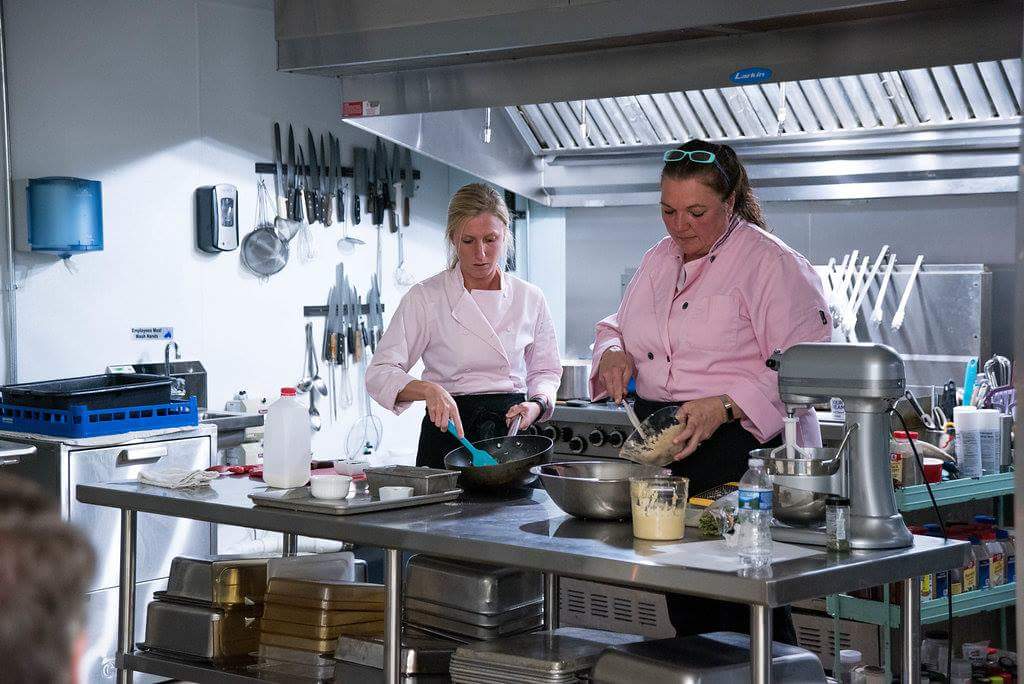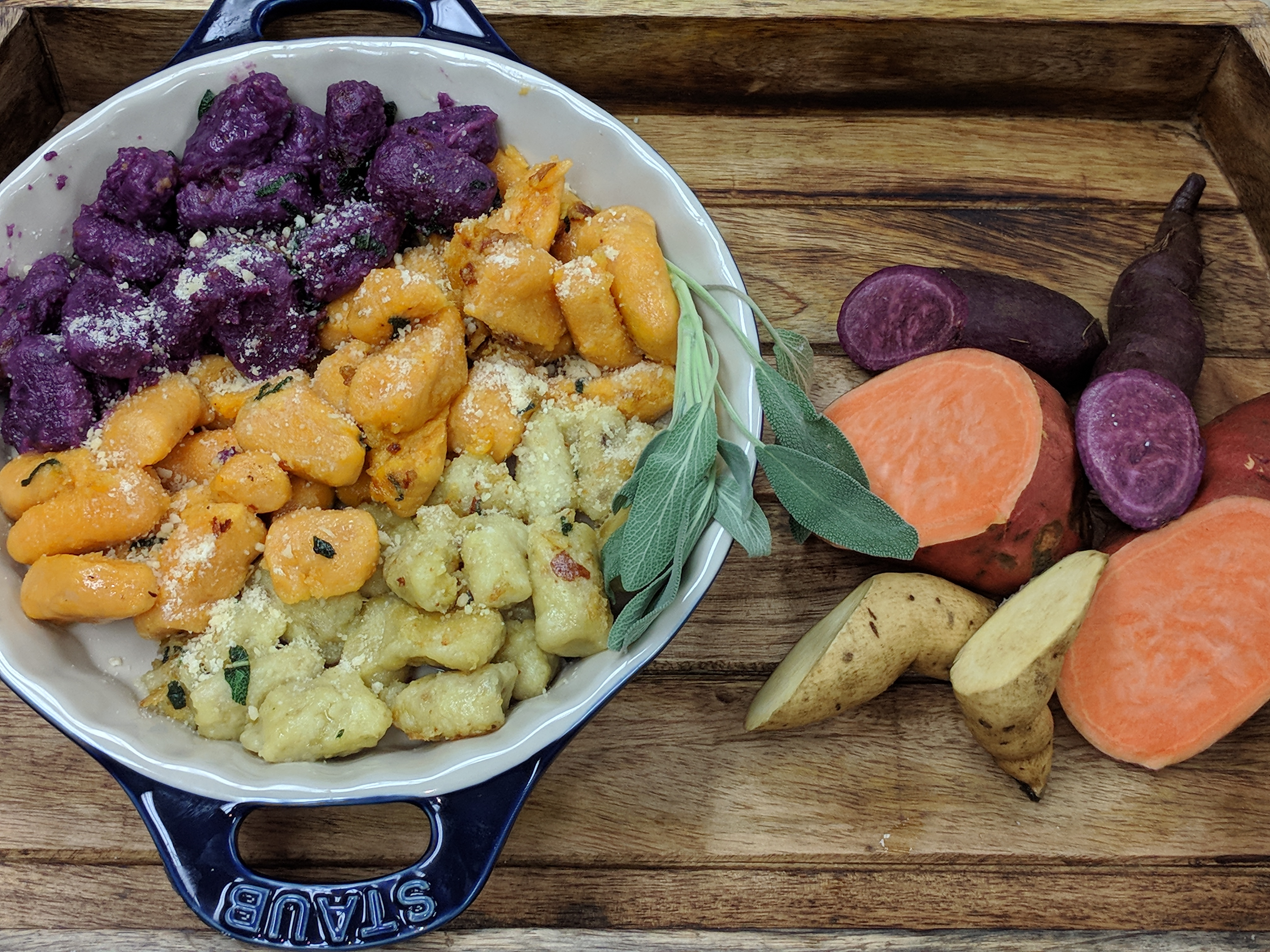 Sweet Potato Gnocchi 
Ingredients
Two pounds of sweet potatoes (any color)

2/3 cup whole milk ricotta cheese

1 cup Parmesan cheese

1 1/2 teaspoons salt

1/4 teaspoon fresh grated nutmeg

1 1/2 cups flour (more for dusting)
Method
Wash the potatoes well. Puncture a few times with a fork. Wrap in a damp paper towel, and microwave until soft, about 7 minutes. Or, bake in the oven for about an hour. Scoop the flesh into a mixing bowl. Discard the skin. Mix the ricotta, parmesan, nutmeg and salt until well combined and almost completely smooth. Add the flour 1/2 cup at a time, kneading very gently after each addition (don't over knead it or it will become tough).
[ Read More… ]
Food Safety is Everyone's Responsibility
Everyone wants safe food. Consumers want to have faith that the foods they consume won't make them ill, and farmers want to provide a product that is as free of risk as possible. One of Chesapeake Harvest's primary missions, as we cultivate economic opportunities for farmers, is to support our region's specialty crop producers in their food safety goals. For farmers, this is a complex task that, depending on customer demands, can require a written food safety plan, annual and pre-harvest risk assessments, frequent water testing, training workers in health and hygiene policies, wildlife monitoring, frequent equipment cleaning, intensive record keeping, the capacity to implement the plan and pass an annual audit, and many more details.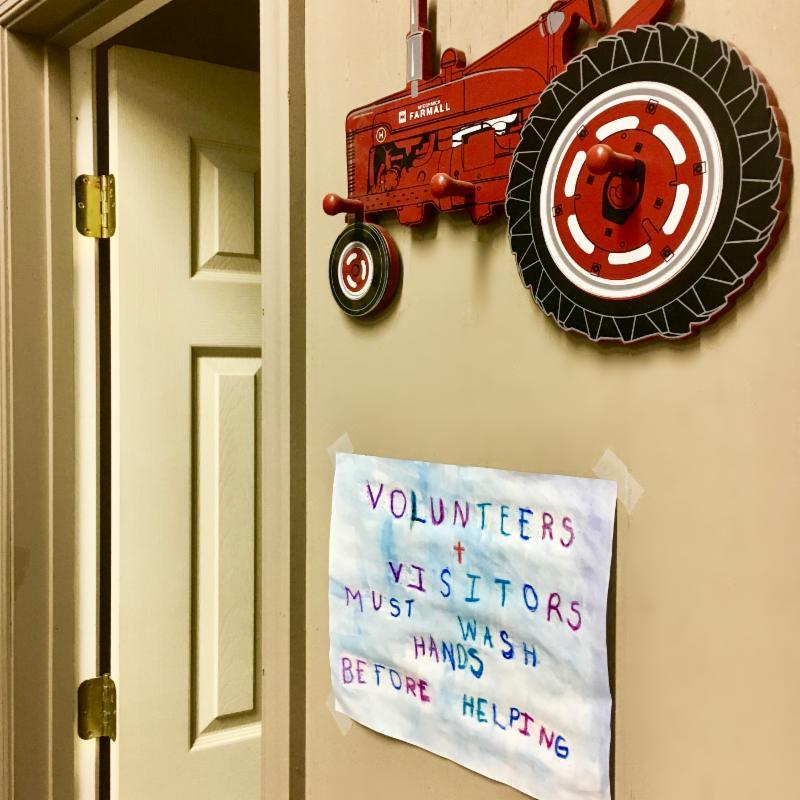 Carrots
You may see carrots as a backdrop vegetable, something you can't live without but that rarely make center stage on your table. Allow us to shine a spotlight on fall carrots! One taste and you'll be ready to give them a starring role in your fall menus. The secret is in the sweetness. When temperatures drop, certain plants begin converting natural starches to sugars to help prevent them from freezing. Lucky for us, because all that survival instinct means that carrots and other cold-hardy vegetables actually get sweeter as the mercury drops. Contrary to folklore, they won't give you the ability to see in the dark. But, carrots do contain copious quantities of carotenoids which guard against vision loss, cancer, stroke, and other diseases. Use them raw, roasted, souped or stewed. Or try juicing them into a nifty sangria!
Onions
While we're on the subject of gotta-have-em vegetables, now is a great time to get your hands on the last of the sweet onions. Not intended for long term storage, these
sweet show stoppers
will become increasingly difficult to find as winter moves forward. It's worth a little extra effort to snag some before they're gone. Unlike their smaller, firmer cousins, sweet onions are less likely to burn your eyes due to reduced quantities of certain sulfur compounds. This makes them sweeter, and friendlier on the tongue if eaten raw. They're also perfect grilled, roasted, or fried. Here's an idea for a
seasonal frittata
that will be a great addition to your holidays.
Mailing Lists
Sign up now for the latest in news and information!
Follow us on Social Media!
Mailing Lists
Sign up now for the latest in news and information!
Chesapeake Harvest
101 Marlboro Avenue, Suite 53
Easton MD, 21601
410.690.7348
Chesapeake Harvest
101 Marlboro Avenue, Suite 53
Easton MD, 21601
410.690.7348
© Chesapeake Harvest Benefit, LLC - 101 Marlboro Avenue, Suite 53, Easton, MD 21601  |  410.690.7348  |  Legal Notice
Website Designed by Zack Schlag