Chesapeake Harvest Fuels Direct Farm Sales
These days, with services ranging from Amazon Direct to Blue Apron, the idea of purchasing food online isn't new. But if you're committed to local food –  and know it to be fresher and more nutritious, while supporting the local economy – you may assume food shopping online isn't for you. The food that shows up in a box at your door may have been grown halfway across the country–or even halfway around the world.
Chesapeake Harvest Direct (CHD), a new service from Chesapeake Harvest, the Easton Economic Development's program to help the local food economy, is interested in changing that.
An online marketplace designed for small retailers, including restaurants, CHD combines the convenience of online shopping with the assurance of knowing your farmer. When members click the "confirm purchase" tab on their screens, they can be confident that the food was grown by a farmer nearby – quite possibly someone they personally know–whose practices are transparent.
According to Jordan Lloyd, operations director for Chesapeake Harvest, the pilot program "works just like any other online marketplace. You type in your order, you pay by credit card, and the order goes right to the farmer." Members will be able to search for goods by product or by farm, Lloyd says.
The website, www.chesapeakeharvestdirect.com, was designed by Local Orbit, a Hawaii-based company led by Rob Barreca, who is both a farmer and a tech entrepreneur (he founded Farm Link Hawai'i, an online marketplace, aggregator and delivery service). As CEO of Local Orbit, Barreca is actively involved with each new client. "He's available to make changes and work through glitches," Lloyd explains. "He cares about our success."
Initially, Lloyd says he expects Chesapeake Harvest Direct to be more appealing to small businesses and restaurateurs than to individual households. The reason, he says, is farmers may want to maintain minimums when it comes to deliveries. "We want to make sure this is worth the farmer's time and money." That doesn't mean individual households can't join to put together bulk orders, he points out. "You and your neighbors could start your own Chesapeake Harvest purchase program."
Lloyd, former chef at the Bartlett Pear Inn, which he still owns and operates as a bed and breakfast with his wife, Alice, has been marketing CHD to his fellow restaurateurs. "They're saying it's amazing," he reports. At the same time, he says, "we've been getting great feedback from farmers. In its rollout season, CHD is working with a handful of just a handful of buyers and suppliers, says Lloyd. "We want to work through any bumps before it is brought out into the wider market." Even so, Lloyd adds, "anyone interested in becoming a part of our pilot season, should contact me." 
Before becoming operations director, Lloyd served on the Chesapeake Harvest board since the organization started in 2014. In that time, he says, Chesapeake Harvest has created a strong foundation by helping farmers with Gap certification, and other issues that pave the way for strong wholesale business. Chesapeake Harvest Direct is the next step, he says. "This program supports farmers," he points out, "and our goal is to create economic opportunities for our farmers."
For information about Chesapeake Harvest Direct, contact Jordan Lloyd, operations director, operations@chesapeakeharvest.com
B is for Bounty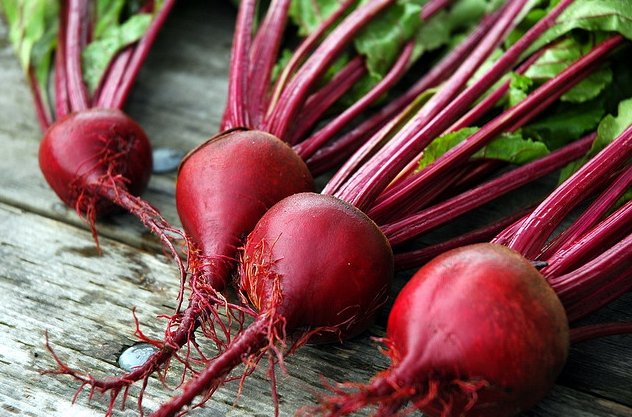 Our produce picks this month: Beets and Blueberries.
Elsewhere in the world, the sweet ruby red part is known as "beet root." In the U.S., we just call them "beets," a semantic shortcut that lops off one of the plants most delectable features – its greens.
Fresh, tender beet greens, packed with iron and vitamins A and C, are delicious sautéed in olive oil or added to soup or stew. You can even sprinkle the leaves with salt and bake on high heat for crispy chips.
As for the root, serve roasted or steamed sliced red beets on fresh greens with a crumble of goat cheese, grind them up with walnuts for a hearty dip, or puree beets for borscht that can be served hot or cold with a dollop of crème fraiche.
Bon Appetit's extensive list of beet recipes found here even includes suggestions for dessert and cocktails.
In the mid-Atlantic, plump highbush blueberries (as opposed to the tiny orbs that grow in Maine and Canada) can grow from July to September. You'll find them at farmers markets, u-pick farms, and retailers committed to local sourcing. Easy to eat and freeze, blueberries are considered a "superfood," with purported benefits ranging from preventing inflammation to improving memory. Sprinkle blueberries on your morning yogurt or cereal, bake them into a yummy cobbler or clafouti, simmer them down to a jar of jam, or just eat them by the handful.
As always, ask for locally grown blueberries, beets and other produce at your favorite grocery stores, farmer's markets and restaurants.
Your food is here!