Blackberries in the Bottle 
Blackberry rum hadn't been on her radar, says Jaime Windon, owner of Lyon Distilling in St. Michaels. But when Elizabeth Beggins, production manager at Chesapeake Harvest, called last summer to offer a couple of flats of the juicy purple berries, Windon agreed to take them. "It seemed like a cool idea."
The flats, from Sand Hill Farm in Greensboro, says Windon, "were more blackberries than I'd ever seen," and she set about using the fruit for a limited-edition bottling. "We did a trial run last year to see how it would work," she says.
This year, with the formula and labels approved, Lyon Distilling is geared up to put blackberry rum into regular production, and they just purchased the berries to do so via Chesapeake Harvest Direct. 
Blackberries are at their peak around mid-July, says Charlene Dilworth, who has operated Sand Hill Farm with her husband Carmon since 1977. The couple, who planted the bushes about five years ago, sell berries and other produce at farmers markets and to restaurants and caterers including the Miles River Yacht Club, the Bartlett Pear Inn and Gourmet by the Bay. Last year, says Dilworth, the brambles produced more than expected. "I called Elizabeth and told her I had a bunch of berries that needed a home. Otherwise they'd rot," she says. 
Lyon steeps fresh blackberries into the rum once it's been distilled. "It's an after-the-fact infusion," explains Windon, and it produces a rich flavor. The rum, she says, "makes a great mojito, and is also nice with ginger ale or ginger beer for a mule."
Charlene Dilworth says she likes the rum "just straight, with a little ice." And yes, she likes knowing that Windon used blackberries grown at Sand Hill. "I was tickled that they turned out so well for her," Dilworth says.
Whether you are a farmer looking to sell produce, or a restaurateur, retailer or home chef looking to fill the larder, Chesapeake Harvest Direct, is for you. The online marketplace is an easy way for restaurants and companies like Lyon Distilling to source fresh, local products. The site, Chesapeakeharvestdirect.com brings local food producers and wholesale buyers together in a convenient and user-friendly way. Chesapeake Harvest Direct provides access to anyone who is able to meet the farmer's minimum – whether it's a 15-pound bag of new potatoes, a bushel of fresh peaches, or a flat of juicy blackberries. This week, you'll also find Choptank Sweets oysters and ground lamb from Oak Heights Plantation!
---
Blackberry Mojito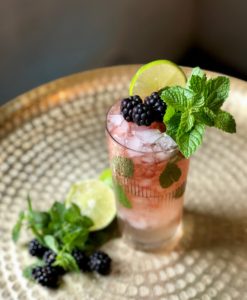 Two ounces Lyon Distilling Co. Blackberry Rum

Half ounce fresh squeezed lime juice

One sprig fresh mint

Soda water (choose either seltzer or club soda)

Optional garnish: lime slice and fresh blackberries
Muddle
mint and lime juice. Fill glass with ice. Add rum and stir well. Top with soda water. Add garnish if desired.
Photo and recipe courtesy Jaime Windon
---
A Helping Hand for Food Safety
In the constantly changing industries of food production and distribution, ensuring that the food sold to consumers meets the highest standards of health and safety can be complicated. Chesapeake Harvest is committed to helping local farmers understand and comply with safety regulations at every stage – from planting to distribution.
The USDA has set minimum standards for the safe growing, harvesting, packing and holding of produce on farms. The standards fall into six major areas:
1.     Worker training and health and hygiene
3.     Biological soil amendment
4.     Domesticated and wild animals
5.     Equipment tools and buildings
Over the next several issues of Field Notes, we'll be looking at these areas and suggesting ways that Chesapeake Harvest can help you to navigate your own food safety plan.
---
August Produce Picks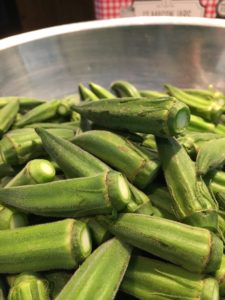 Getting Thick with Okra
The slender seedpod  Abelmoschus esculentus, known in some regions as lady's fingers, is rich in vitamins A, B, C, E and K, as well as calcium, iron and magnesium. Okra, native to Africa, gives jambalaya and gumbo its thickness and makes a tasty treat when fried or pickled. Locally grown okra is harvested throughout the summer and into the fall.  Tip:  cooking okra at high temperatures or paired with acidic ingredients like tomato, lemon juice or wine, alleviates the gooeyness that gives okra a bad reputation.
Here's a recipe for succotash that is perfect for the Eastern Shore summer, when tomatoes and corn are also in season:
Here are a range of recipes that are perfect for the Eastern Shore summer okra.
Juicy, Juicy Gems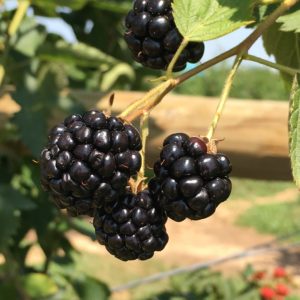 Even if you don't happen to operate a rum distillery, you'll want to scoop up as many blackberries as you can at this time of year. The juicy berries are a midsummer treasure on the Eastern Shore, and make a perfect summer snack: a one cup serving provides half the daily requirement of vitamin C and has only about 60 calories. Muddle blackberries into lemonade or sprinkle on your breakfast cereal or yogurt. Blackberries are divine in cobblers and crisps, or in the continental version of the dessert, clafoutis.
Click here for Julia Child's recipe