We are encouraging, promoting and spreading the word about locally farmed fresh food!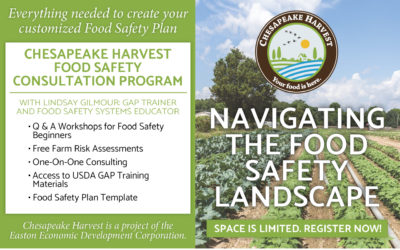 Chesapeake Harvest Offers Fall and Winter Food Safety Training Easton, MD -- Chesapeake Harvest, a project of the Easton Economic Development Corporation, is offering free and low-cost food safety training programs and technical assistance this fall and...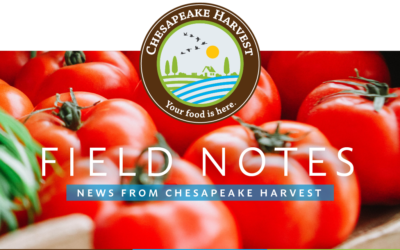 Ranking the 50 States on their Commitment to Healthy Local Food Agriculture census data shakes up the Locavore Index; Vermont still on top; California jumps to second place. Read MoreLearning Food Safety On-Farm On Monday, June 17th, regional farmers dipped their toes...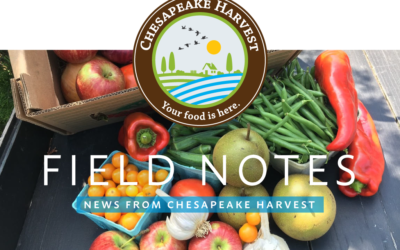 We have big news!  You will not be receiving FIELD NOTES this month as we are changing it to give you a wider range of important information that impacts you and your business.  This month's Field Notes is an update on WHAT'S NEW at Chesapeake Harvest.    For...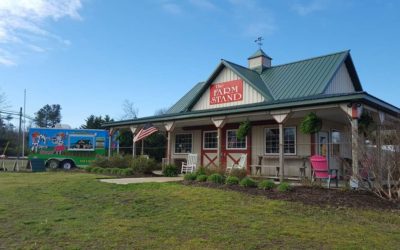 A Winning Combination Catherine Hamilton co-owner of Spider Hall Farm in Prince Frederick had a challenge: How to get local, fresh, and quality produce to their farm stand from the Eastern to the Western shore? They were proud to support the agritourism business by...
No Results Found
The page you requested could not be found. Try refining your search, or use the navigation above to locate the post.
Mailing Lists
Sign up now for the latest in news and information!
Follow us on Social Media!
Mailing Lists
Sign up now for the latest in news and information!
Chesapeake Harvest
101 Marlboro Avenue, Suite 53
Easton MD, 21601
410.690.7348
Chesapeake Harvest
101 Marlboro Avenue, Suite 53
Easton MD, 21601
410.690.7348
© Chesapeake Harvest Benefit, LLC - 101 Marlboro Avenue, Suite 53, Easton, MD 21601  |  410.690.7348  |  Legal Notice
Website Designed by Zack Schlag